True Stories of lives being saved because of a gun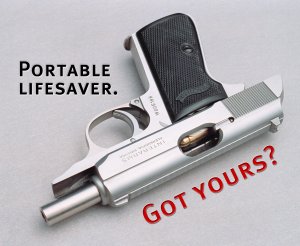 Recent studies find that every year hundreds of thousands (some even claim 2 or 3 million) people use guns to save their lives, the lives of their family and friends, and to safeguard their property! It's interesting to note that you never hear this information from the main stream media or those that would strip citizens of their right to be armed.
In this area, we begun to collect specific, documented examples of how people have used guns in self defense. This list just begins to scratch the surface of defensive gun uses, but it provides good examples of how lives are saved because people had guns.
We have here:
Recent examples of the use of guns by private citizens for self defense.
Good reasons to insist that existing laws be enforced.
Good reasons to make sure that innocent gun owners don't have their rights
to self defense stripped away by politicians who don't care about criminal control,
they just want citizen disarmament and citizen control.
---
---
Seeking help following an assault at the hands of her boyfriend, a woman phoned her parents. They quickly picked her up and brought her to their home, calmed their terrified daughter and she went to sleep. Then a banging at the door arose—the boyfriend had found her hiding place. The parents would not answer, so the suspect kicked in the door and began assaulting them. The mother was able to struggle free and ran to the bedroom to get her pistol. Meanwhile, the suspect turned his attention to the father. The mother returned to find the suspect badly beating her husband. She opened fire, killing the suspect. (The Orange Leader, Orange, TX, 05/16/11)
---
A woman in her early 50s was getting out of the shower when the bathroom lights suddenly went out. An intruder collided into her in the dark, causing her to fall backward into the shower and injure her back. She fought the man, but he put a knife to her throat. "She was telling him that she has money and please don't hurt her," said Police Cpl. Edwin Ritter, adding that the attack was an attempted sexual assault. The intruder forced the woman into her bedroom, but that's exactly where she kept her .22-cal. pistol. She broke free, retrieved the gun and shot her would-be rapist several times. He ran outside, collapsed and died. "Thank God she's okay and she had a weapon to protect herself with," said a neighbor. "She's a nice lady, just a sweet lady." (The Atlanta Journal-Constitution, Atlanta, GA, 05/12/11)
---
Robert Parsley was watching television one evening when he heard a noise outside. He quickly grabbed his Smith & Wesson Model 360 revolver chambered in .357 Mag. to investigate. The doorbell rang several times. Parsley looked out the window and saw a man tugging on the locked screen door. Holding the gun behind his back, he turned on the porch light and asked the young man what he was doing. He claimed his wife was in labor, and heavily perspiring, he said that he needed help. But Parsley found the man's story suspicious. His instincts were correct: Earlier that evening the man stole an excavator and used it to severely damage a church. Parsley lowered the gun, bringing it into view. "Sorry for waking you!" the young man said as he ran off. Two police cruisers pulled up with their spotlights on searching for a suspect. Parsley told them in what direction the suspect had run and they found him breaking into a nearby home. (WTVD-ABC, Raleigh, NC, 05/20/11)
---
In 2007, shortly after pharmacist Jeremy Hoven began working the night shift at Walgreens, the store was robbed by four armed men. Despite workers' security complaints, Walgreens made no changes, so Hoven obtained a concealed carry permit and purchased a firearm. Earlier this year, Hoven was behind the counter when two masked robbers carrying guns burst inside. According to Police Lt. Delmar Lange, the robbers were "very aggressive and very dangerous in what they did and how they did it." The robbers ordered all employees into a back room. Hoven fired upon the robbers, likely hitting one and causing both to flee. Unfortunately, Walgreens fired the heroic armed citizen for carrying a gun. (The Herald-Palladium, St. Joseph, MI, 05/10/11)
---
Tim Lewis was at the park throwing a Frisbee for his German shepherd when he said "all hell broke loose." Three pit bulls, all off-leash, quickly advanced upon his dog and one of them attacked. Lewis tried to pull the pit bull off, but then the other two joined in. The owner of the pit bulls showed up and helped Lewis pull back the most aggressive pit bull, but then it turned on Lewis. That's when Lewis, a concealed-carry permit holder, drew his pistol and fired a shot, striking the attacking dog. The wounded dog was recovering after surgery. "If I didn't have my gun, I'd be dead right now," Lewis said. "It's not something I wanted to do. I love animals." (Kirkland Patch, Kirkland, WA, 05/21/11)
---
When three men claiming to be contractors told 86-year-old Walter Peppel that his roof was leaking—and that he needed to pay them $11,700 to fix it—he smelled a rat. The roof was in good condition, and the men had no uniforms, business cards or logo on their vehicle. One of the men was so bold as to climb atop Peppel's roof without permission, claiming he needed to inspect it. Peppel told the men to leave the house. Instead, they shouted at Peppel, frightening his wife and demanding he pay them to fix the roof. That's when Peppel got his original Winchester Model 94 lever-action and pointed it at the scammers. They fled before the Peppels could record their license plate number. (Pocono Record, Stroudsburg, PA, 05/09/11)
---
Granny, Get Yer Gun !
"After a 72-year-old grandmother heard noises in the back yard of her Colorado Springs, Colo., home late one night, she called out to ask who was there - then grabbed her gun. Seconds later, an intruder slammed into the bolted back door, but the feisty woman was ready with her .38-cal. revolver. Four shots sent the man fleeing to a car, but police quickly caught up with him after he allegedly caused two hit and run accidents. He was later investigated in connection with two rapes that occurred in the same area. The elderly victim later reflected, 'What would I have done if I hadn't had my gun? I would have been just another statistic.'" - American Guardian
---
LAND O' LAKES, Fla. (AP) - A woman awakened from her sleep in the middle of the night to find a masked man holding a knife to her throat and fatally shot the intruder.
The man was identified at Robert J. Metz, a neighbor of Maria Pittaras. He was described by his relatives as having a history of mental illness.
Police determined that Pittaras, 28, acted in self-defense in the shooting of Metz and would not be charged.
Pittaras awakened after 2 a.m. Wednesday to a man on top of her in her bed with a knife to her throat, police said. He was wearing a nylon mesh bag over his head and gloves.
Pittaras grabbed her gun from her nightstand. She fired two shots from the 38-caliber pistol. One hit the wall and the other struck Metz in the neck. He died instantly.
Metz, 47, had entered Pittaras' home by crawling through a guest bedroom window, sheriff's spokesman Kevin Doll said.
Metz, a construction worker, and his wife, Carolyn, lived four houses away from Pittaras in the quiet Turtle Lakes subdivision at the Pasco-Hillsborough counties line. She told police she did not know him before the attack.
---
Chadbourn, N.C. - Eighty-two years old and blind in one eye, Harvey Faulk had every reason to be scared when a pair of intruders, one armed with a gun, stormed into his house. Detective Capt. Roy Norris of the Columbus County Sheriff's Office said the intruders approached Faulk's home at 11:30 p.m. Wednesday, and then stormed in when he answered the door. He was forced to his bedroom, where one of the suspects demanded his wallet, which was in the pocket of a pair of pants lying at the foot of the bed, police said. "Don't kill me. Just please leave me," Faulk recalled begging. And then, when his wallet fell, Faulk saw opportunity. "They was scrambling for the money that fell out of my pocket on the floor," Faulk said. "That gave me a chance to ease my hand into my drawer and get [my gun]. And when I shot, they went to shooting, too." Norris said, detectives believe Faulk, who lives alone, fired at least five bullets and they have evidence an intruder fired at least one shot. The captain said that the two suspects fled -- one through the front door, and another broke through a glass window. But Faulk apparently didn't know that one of the fleeing suspects had been hit with two bullets, and he didn't call police right away, instead calling relatives who came to his home. When Faulk told his relatives that one of the suspects was wearing red, one of the relatives recalled something red outside, and they went 50 feet from the front door and they found the dead body of Travis Frink, 19, beside a 12-pack of beer, Norris said. (APBnews.com)
---
Indianapolis, IN. - The would-be robbers who tried to hold up a Near-Eastside mom-and-pop variety store couldn't have known it, but this time 70-year-old George Smith was packing. Smith, a friend of the Shelbyville couple who have run JM Distributors for 21 years, was shot outside the store the last time something like this happened in 1998. So he bought a gun. Two years later, when intruders came again, Smith was ready. The result: one suspect dead, another wounded. "We'd be dead if it wasn't for George," said Judy Moore, 50, whose husband, Jerry, was working outside the store when the holdup men walked in just before 5 p.m. Thursday. "I think George was the real hero. He saved my life." Back in the shop Friday, Jerry Moore didn't have the stomach to clean all the blood off some of his store shelves.
---
Smith was in the front of the store when Price and the other man entered just before 5 p.m. wearing women's stockings over their heads. Judy Moore was in the office in the back. Price pointed a gun at Smith and pushed him. Smith pretended to have a heart attack and fell to the floor. Then Price went into the office and confronted Judy Moore. Price's accomplice stayed near the cash register. Terrified, Judy Moore began screaming. "I thought I was going to die, I really did," she said. Price seemed to be looking for something in the office. When he didn't find it, he went back to the front of the store. He found Smith waiting. Price again pointed a gun at Smith who by then had pulled out his own weapon. Smith fired at both men, hitting Price in the head and his accomplice in the left shoulder, Lehn said. Price fell to the floor, and his partner fled. Seconds later, Jerry Moore, who had heard the ruckus from outside, rushed in. While police responded to a 911 call from Judy Moore, the fleeing suspect showed up at Winona Memorial Hospital, according to police. He arrived at 6:10 p.m., was briefly treated for his wound and left at 6:25 p.m. -- before police, summoned by hospital staff, could arrive. Police intend to charge him with attempted robbery -- and also felony murder because of the death of Price during the commission of a felony. (Indianapolis Star)
---
Greensboro, NC. - A convenience store clerk on Holden Road shot at two robbery suspects, killing one of the men early Tuesday morning, police said. Anthony Carl Greeson, 20, was found shot to death in the driver's seat of a van that ran off the road near the store just minutes after the robbery. Greeson's 25-year-old brother and passenger in the van, Robert Wayne Greeson, was not injured. Karl Hout, a clerk at the 3262 Holden Road Handy Pantry, called 911 at about 12:40 a.m. and reported the robbery, police said. Hout told police that two men had robbed the 24-hour store and then fled in a van headed westbound on Vandalia Road, said Greensboro police Lt. Candace Lombardo. Hout also told dispatchers that he had fired shots at the two suspects, Lombardo said. It was not clear whether Hout fired the weapon during the robbery or after the men left the scene. But within minutes of the robbery, the police department received a call that a van had run off the road near Vandalia and Glen Hollow Roads. The intersection is just a quarter-mile from the store. Police found the two Greensboro man in the van. They believe that the two brothers were the men involved in the robbery, Lombardo said. Robert Wayne Greeson, who according to court records shared a 6001 Buckhorn Drive address with his younger brother, was charged with four counts of common law robbery early Tuesday morning. He is now in the Guilford County jail in Greensboro under a $125,000 bond. (Greensboro News & Record)
---
Charleston, South Carolina. Police say a man who allegedly breaks into a downtown home gets a big surprise. He is shot by the woman who lives there. We're told when the woman and her boyfriend arrived at their Line Street home Tuesday night, she noticed someone was inside. Police say she went back to her car, got her gun and fired shots at the intruder. The suspect, 35 year old Joseph Perry Brown was hit in the back. Police found him lying on the floor inside the house. The solicitor says the woman acted in self defense and won't face charges. Her neighbors agree with the decision. One told us, "I think I would do the same if it was me because you just never know. Her life was on the line. She could have been shot as well." Brown is charged with burglary. A judge denied him bond at a hearing in the hospital. Reported by Harve Jacobs. hjacobs@wcsc.com (WCSC, Charleston South Carolina, Live 5 Local News)
---
Piatt Twp, Pa. - Police in Lycoming County are on the lookout for two men who got more than they bargained for when they tried to break into two separate homes. In both cases the elderly homeowners fought back. Charles Hill, 80, described the rude awakening he received Wednesday morning. I saw them banging against the door and I stepped over and hollered, what do you think you are doing out there – you know I have a gun in here. When he heard the two men trying to break in he grabbed his .22 caliber rifle and defended his home near Jersey Shore. After they fled in a small dark-colored car Hill didn't stop. He said, when they went up the hill over there, I fired, hoping to put tell-tale bullet holes in the pair's getaway car. But he was unsuccessful. A short time later, state police believe the same two men sized up another home about ten miles away near Cogan Station. According to police, they broke in and fought with 75-year-old John Umstead. He managed to fight off the attackers but not before suffering a blow to the head and a kick to the ribs. Although sore, he said he was fine. Meanwhile both Umstead and Hill are working with police to help catch the two burglars. Hill said, the cop asked me if the gun was loaded, and I said you're happy tootin it's loaded – I keep it loaded.? He locks his doors, but added, if they get inside and if I have a gun I won't aim to kill, but I will aim to cripple. Hill said he had no regrets about grabbing his rifle even before dialing 911. I would do the same thing again I wouldn't hesitate. Police describe the suspects as white males in the 20s or 30s. One man is tall and skinny; the other is shorter with a stocky build. Anyone with any information about the burglars is asked to call state police at Mountoursville at 368-5700. (Wilks-Barre, Pa. WBRE-TV)
---
"A West Boca Raton, Fla., resident was thankful he had prepared for the worst when a neighbor from the same apartment complex broke through his window in an impromptu 3 a.m. 'visit.' The resident already had his gun trained on the intruder's intended path by the time the inept, would-be burglar made his way into the kitchen. The resident continued to hold the man at gunpoint as he reported the incident to a 9-1-1 operator. Deputies arriving at the scene a short time later found both captor and crook - mediated by the former's firearm - out front. 'Honestly, as a law enforcement officer I recommend protecting yourself,' said Sgt. Rick McDermott of the Palm Beach County Sheriff's Office." American Guardian
---
Spring Hill, Fla. Sandra Suter was standing in the check-out line at Wal-Mart on Monday when she saw several store employees wrestling with a man. "Drop the knife! Drop the knife!" one of the employees yelled at the man, who authorities say was trying to steal a VCR. The man, identified as Willie J. Redding, dropped the appliance, pulled a small blade and lunged, cutting two employees, a Hernando County sheriff's report said. Suter, a 53-year-old grandmother of two, reacted. Within seconds, she rushed to the scuffle. "I have a concealed weapons permit," she announced as she whipped out the .40-caliber semiautomatic handgun she keeps in her purse. "Either drop the knife, or I'll shoot you," she said as she held the weapon to the man's face. After a few tense moments, during which Suter repeated her threat, Redding dropped the knife and surrendered to store security. Redding of 262 A St., Brooksville, now faces a charge of armed robbery and two counts of battery. Authorities say the 50-year-old Brooksville man walked into the Spring Hill store with an empty VCR box, said he wanted to make an exchange and then tried to leave with a new VCR. Redding, who has previous convictions for selling drugs and dealing in stolen property, was taken to the Hernando County Jail. He was released Tuesday on $3,000 bond. After the arrest, several employees, who did not need treatment for minor cuts, and a Hernando County sheriff's deputy thanked Suter for her decisive action. Suter's husband and grown children are calling her a hero. But the 5-foot-3 homemaker just laughs at the label. "I just did what I thought was right," she said. "It was the first time I've ever had to pull my gun other than at the firing range. I don't know what made me do it." Suter said she has carried the gun in a special pouch in her purse since March. Her son urged her to get it, saying she needed protection during long drives to visit out-of-state relatives. Suter picked the chrome handgun because it was "pretty." She would have used it Monday if necessary. "I would have, had I had a clear shot," she said. Suter is not a member of the National Rifle Association and said she does not get involved in "any of that politics." But she strongly supports Americans' right to bear arms. She and her family often gather at a Lakeland shooting range to practice. "It's brought our family closer together," she said. She and her husband keep child safety locks on their guns and have instructed their grandchildren, ages 4 and 2, not to touch them, she said. (St. Petersburg Times)
---
Port Richey, Fla. When a burglar entered a 47-year-old woman's home early Tuesday morning, she grabbed her handgun and confronted him, authorities said. The woman, who lives on Seabreeze Drive and was not identified by sheriff's officials, was sleeping when her phone rang at 3:50 a.m. Her alarm company was calling to tell her that an intrusion alarm had been set off. The woman asked the alarm company to call the Pasco County Sheriff's Office, and she took her .38-caliber handgun from her nightstand drawer. She could hear a noise in the direction of the family room, deputies said. Walking out of her bedroom, she crept to the family room, where she saw a man standing over her desk. He was opening and closing the desk drawers, she told officers. She said: "Who are you? I have a gun," but the burglar ran toward her and pushed her against a wall, a police report says. The woman told police that she fired once at the burglar's back, but she did not think she hit him, deputies said. The man unlocked the laundry room door and fled, authorities said. Deputies asked local hospitals to alert them if a gunshot victim asks for treatment. (St. Petersburg Times)
---
McMinnville, Tenn. - homeowner Mark Haley awoke to the sounds of a break-in early one Tuesday and went to investigate with his handgun. According to Warren County Sheriff Jackie Matheny, the home invader had kicked in a basement door and was heading toward the bedroom when he met the armed homeowner. "I told him to stop right there, but he took another step. Then I cocked the gun and told him to stop again. That's when he stopped," said Haley. "He was about three steps away from where my children were sleeping, so I knew I had a decision to make. All I could think of was the safety of my family." Haley held the man at bay until authorities arrived. (Southern Standard, McMinnville, Tenn.)
---
A Bradenton, Fla. - man who left his apartment on foot early one Sunday was violently assaulted by two people who jumped him from behind. The vicious attack left the victim with 16 stab wounds to the back. Despite the seriousness of his injuries, however, the man fought back, pulling a gun and firing at his attackers. One of the assailants was flown to a nearby medical center suffering from a gunshot wound to the stomach. The victim helped police identify his other attacker who was later charged with attempted murder. (The Tampa Tribune, Tampa, Fla.)
---
Troy and Marie Mathis arrived at their Forrest City, Ark., home one night and stepped from their car directly into a life-or-death scenario. According to police, two masked men appeared in the driveway, and one pointed a gun at Marie Mathis' head in a robbery attempt. Troy Mathis fought back, pulling his own pistol from a pocket and firing once. The masked gunman then shot back. When the smoke cleared, the accomplice was gone and Mathis was wounded. The gunman didn't fare as well. He expired a short time later in a nearby vehicle. Reports indicated he had a lengthy criminal record that included robberies, burglaries and weapons charges. (Times-Herald, Forrest City, Ark.)
---
When John "Buck" Beauchamp's dog began growling at 2 a.m., he sensed something outside the house was wrong. Peering through a kitchen window, Beauchamp saw a man carrying items from his truck and placing them in the trunk of a car. Clad in his underwear and armed with a hunting rifle, Beauchamp ran outside and confronted the man. "I've got your license plate number and I've called the police. You might as well sit down," he commanded. When police arrived, they took the man into custody and later arrested an accomplice in connection with a string of more than 20 car break-ins. (The Albany Herald, Albany, Ga.)
---
Gerard Douglas carried his .38-cal. handgun for self-protection during the overnight shift at a Daytona Beach convenience store. The habit likely spared the 61-year-old clerk's life. According to police accounts, an armed suspect entered the store early one morning demanding money. Douglas initially thought the man was joking, but when he realized the order wasn't a gag, his resolve turned gravely serious. When the man set aside his gun to grab the loot, Douglas--recalling a recent robbery that resulted in the clerk being killed despite handing over the cash--drew his gun and fired a single shot. Authorities later found a college student in his campus residence bleeding from a gunshot wound to the chest. (The Orlando Sentinel, Orlando, Fla.)
---
A night clerk was on duty at an Elkhart, Ind., hotel when two men wearing blue bandanas over their faces and holding their hands in their pockets walked in. The quick-thinking clerk reached behind the counter, grabbed his handgun--for which he had a permit--and pointed it at the unwelcome "guests" demanding that they leave. Both men were more than happy to comply and instantly fled the premises. (The Elkhart Truth, Elkhart, Ind.)
---
A 29-year-old woman was in her Sequim, Wash., home with her young children early one Sunday when she heard what sounded like someone attempting to break in. Not waiting for her suspicions to be confirmed, she swung into action, summoning help from authorities with her cell phone. Then, gathering her children, she retreated to the bedroom and armed herself with a 9 mm handgun. As the intruder made his way to the bedroom, his intended victim confronted him with the business end of her handgun, sending him fleeing. None of the home's occupants was harmed, and police later caught and arrested the intruder. (Peninsula Daily News, Port Angeles, Wash.)
---
Screams from an Albuquerque, N.M., woman who returned home one afternoon to find a burglar inside called an entire neighborhood to action. After the fleeing suspect hopped into a getaway car with an accomplice, the pair sped off. Unfortunately for the nefarious knuckleheads, their escape route turned out to be a dead-end street. When the car pulled into a driveway, one suspect escaped and the other was quickly surrounded by a pistol-wielding neighbor and other residents. "It's a good response by the neighbors," said Sgt. B. Carr of the Albuquerque Police Department. (Albuquerque Journal, Albuquerque, N.M.)
---
Awakened by noises at his back door early one morning, an 83 year-old San Francisco widower resolved to protect himself with a handgun purchased for exactly such an eventuality. As an intruder armed with a tire iron approached his bedroom, the elderly homeowner retrieved the gun and pulled the trigger-for the first time in 30 years. Bought in 1948, the .38cal. Smith & Wesson revolver had gone largely unused for more than half a century. It finally became the man's only hope of self-preservation, proving deadly reliable in a pinch. The shot ended the confrontation and the invader's life. The homeowner said later, "I never thought I would kill another person. I just wanted to stay at home and mind my own business." (San Francisco Examiner, San Francisco, Calif.)
---
Raymond Rask was jarred awake in his Britt, Minn., home early one Saturday when an intruder wearing a nylon sock over his head and armed with a rifle barged in, fired two shots and demanded that Flask hand over the money in his safe. Rask answered the order by grabbing his lever-action Savage rifle and inserting a round. That sent the man fleeing. Two men were later caught and charged in the incident. (Mesabi Daily News, Virginia, Minn.)
---
A man armed with a shotgun and concealing his face with a bandanna entered Getachew Alemayehu's Fort Worth, Texas, grocery store threatening the owner and his pregnant wife. Determined to fight back, Alemayehu grabbed his .380-cal. handgun and fired several times, killing the bandit. Only a month earlier, a clerk had been shot to death at a neighboring convenience store. That incident prompted Alemayehu to buy the gun that probably saved his life. (The Dallas Morning News, Dallas, Texas)
---
Barking dogs announced that a desperate murder suspect armed with a rifle and a pistol had wandered onto Jim Kremers' Cheyenne, Wyo., ranch one night. Kremers, who had been warned to be on the lookout for the fugitive, met the threat with the aid of his son who had a rifle of his own. The men eventually turned the tense standoff into a compassionate surrender, feeding the suspect hot dogs and beans and allowing him to call his parents. Meanwhile, the ranchers went back outside, secured the guns and summoned police to make the arrest. Denver Rocky Mountain News, Denver, Colo.)
---
An elderly man was at home in his South Side Chicago apartment when an invader broke a window and knocked in the door, according to police. When the intended victim heard the commotion, he went for his gun and warned the intruder to stay back. As the man armed with a knife-kept coming, the resident stood fast. He used his .38-cal. handgun to fatally dispatch the attacker. (Chicago Tribune, Chicago, III.)
---
When three would-be robbers entered a Commerce City, Colo., residence, one of them pulled a knife, according to officials. The two men and a woman apparently had planned to rob an acquaintance; but the homeowner resisted the threat, drawing his semiautomatic handgun and shooting the two men. After the three fled, they called for medical help from a cousin's house. The police followed shortly thereafter. "As soon as they get out of the hospital, we'll be there to meet and greet them," said Sgt. Craig Coleman of the Adams County Sheriff's Dept. (The Denver Post, Denver, Colo.)
---
The peace and quiet of Glen White's Oildale, Calif., home was shattered early one morning by a burglar who confronted White and demanded money. A disabled diabetic, White evened his odds by firing back with several shots from his .38-cal. revolver. The intruder was hit three times. He fled and later sought help at a nearby medical center. A neighbor of White commented, "If you ask me, I think (the intruder) got just what he deserves." (The Bakersfield Californian, Bakersfield, Calif.)
---
When a man who had done some work for a Columbus, Neb., woman showed up at her home one Saturday, she turned him away saying she was too busy to talk. He soon returned to ask the woman for water to cool his overheated van. After sending him around the side of the house to draw it, she went back to her business. The next thing she knew, the man had followed her back into the house with a rifle and began aiming it at her and pulling the trigger. The terrified resident had the presence of mind to go for her handgun, killing the intruder. (Columbus Telegram, Columbus, Neb.)
---
A 74-year-old St. Petersburg, Fla., man answered his doorbell one night, but didn't hear a reply when he inquired about the visitor's identity. The next thing the resident heard was the sound of breaking glass at the back of his house. Acting to protect himself, the elderly man stood his ground as the break-in attempt continued. After the would-be burglar knocked out a door panel, the resident fired several shots from his .38-cal. handgun, sending the intruder fleeing. Police later caught the inept scofflaw. (The Tampa Tribune, Tampa, Fla.)
---
A La Jolla dentist grappled with a burglary suspect in his offices over the noon hour yesterday, and one of his employees used the dentist's holstered gun to hold the suspect until police got there.
The incident began during a lunch break at the Herschel Avenue offices of Dr. Thomas G. Brown, police said. Staff members saw a man leaving Brown's private office with a bank deposit bag and confronted him in a hallway. When the man bolted for the front door, Brown and his lab technician grabbed him, and all three fell to the floor. "We wrestled him to the ground," Brown said. "We didn't want to harm him, but we didn't want him getting away, either." An employee called 911 while another grabbed Brown's holstered gun from a drawer to keep the man from escaping, police said. The suspect was identified as Jack Waring, 41, of Logan Heights. Waring was on parole for burglary. ( Union-Tribune, La Jolla CA)
---
Hours after convenience store operators rallied in remembrance of five slain comrades, a Vietnamese-American clerk at a store in southeast Houston fought back against two armed robbers and won.
After trying frantically to talk the robbers into leaving with the store's money Wednesday night, Khoa Dang Nguyen, 28, opened fire, fearing they would kill him and four others trapped in the small store. Instead, police said, the only ones hurt were the two robbery suspects, 19-year-old twins Albert and Abbert Gaston, each charged with aggravated robbery and held on $40,000 bail.
Five clerks were killed in three holdups in five days here this month. (Houston Chronicle, Houston Tx)
---
6am this morning a citizen awoke to hearing someone breaking into his garage. Upon investigation the would be thief was cornered and attacked in the direction of the citizen with a crow bar. The citizen shot, the bandit managed to escape but was found, taken to St. Elizabeths Hospital where he died. The citizen was not charged. (Channel 27 News, Youngstown OH)
---
A teen-ager robbing a bar was shot and killed by off-duty Cleveland police officers early Tuesday. Tekili Williams, 17, of Cleveland, was shot near the back door of Tree House, a tavern in the city's Tremont neighborhood. According to police reports, two masked robbers entered the tavern and began pistol whipping the bartender and demanding money. Williams ran to the back of the tavern and was confronted by the officers who had been in the bar. When he refused demands to drop the gun and began to shoot, the officers shot back. A second suspect ran out the front door. A 19-year-old man later was caught and questioned. The officers were placed on leave while the shooting is investigated. (AP Cleveland OH)
---
Accountant Merlann Bechtel's heart sank as she watched a robbery unfold on video surveillance in the back of the jewelry store where she worked. Three men-one wearing a ski mask and armed with a gun entered the business in Lower Paxton Township, Pa., announced a robbery and began strong arming employees and smashing display cases. Bechtel's valiant attempt to help her co-workers drew a hail of fire from the gunman, said police, but she ultimately got the drop on the crook after meeting him face to face. Firing twice from her own gun, she shot the man in the abdomen, ending the horrific ordeal. Fleeing suspects dropped off their partner at an area hospital and were later arrested along an Interstate. "We are allowed to defend ourselves against others when deadly force is used or threatened," said Harrisburg attorney Alan Michael Ross. (The PatriotNews, Harrisburg, Pa.)
---
James McCullough and his nephew were mending fence one afternoon when they noticed a suspicious vehicle enter their neighbor's pasture in Hollister, Calif. When three gunshots cracked through the air, the men resolved to investigate. They arrived at the site only to discover a dead heifer in the back of a Suburban whose driver and passenger were about to make a getaway. The two trespassers, who were held at gunpoint until a sheriff's deputy could arrive, were subsequently arrested and charged with using a stolen revolver to kill the cow. (San Jose Mercury News, San Jose, Calif.)
---
A band of thugs that accosted and beat a 24-year-old Lafayette, Calif., convenience store customer late one Saturday night appeared to be fearless in their superior numbers. As they kicked their fallen prey about the head, two Good Samaritans rushed in to help even the score. The attackers were undeterred by their decreasing odds of success, however, and continued beating the victim. That's when one of the rescuers made a move that turned the tide: He racked a pump-action shotgun, sending the assailants fleeing. (Contra Costa Times, Walnut Creek, Calif.)
---
Sean Green was walking in downtown Atlanta when a man, allegedly armed with a knife and intent on committing a mugging, confronted him. The off-duty security guard ran for his life, but was cornered by his attacker at the entrance to the Atlanta Journal-Constitution newspaper office. The incident, recounted in the following day's edition, ended when Green shot the would-be robber once in the leg. Green had the guard at the newspaper's lobby call police who soon arrested his attacker. (Atlanta Journal Constitution, Atlanta, Ga.)
---
A plan by two men to rob the Po'Kin convenience store in Live Oak, Fla., at knifepoint was foiled by an 11-year-old girl, her armed father, the store's owner and other customers in an incredible display of community crime fighting. When the girl realized she had startled the nefarious pair, she ran for her father outside with one of the men on her heels. As that man fled in a vehicle, another customer gave chase. Meanwhile, the owner was struggling inside with the second man who, according to a Suwannee County Sheriff's officer, was stuffing bills into his pocket. The girl's father, now armed, entered the store where he and another customer subdued the man and held him for authorities. The first man was captured soon afterward at a nearby bar. (Citrus County Chronicle, Crystal River, Fla.)
---
Bricie Tribble heard a strange noise in her Apache Junction, Ariz. home shortly after midnight and decided to investigate. What she found was a man kneeling by a recliner as he rummaged through her purse. According to Apache Junction police, when Tribble asked the intruder to identify himself, he replied, "I'm going to kill everyone in this house, including you." Tribble, who had armed herself just in case, fired at least one fatal shot with her .45-cal. handgun. Police said the man had begun his crime spree earlier that evening, abducting a woman at a nearby Wal-Mart before driving her to a secluded location and then raping and shooting her. The victim lived and gave police a description of her attacker. (The Tribune, Mesa, AZ)
---
Marion, Ind., resident Brian Smith told authorities that when he returned home one Friday night he saw five men leaving his garage apartment. Smith said that when he began yelling at the intruders, one fired shots at him. Smith returned fire with his .357-Mag., scattering the suspects. When police arrived, they found several of the would be home robbers hiding nearby along with a small quantity of drugs. (Marion Chronicle Tribune, Marion, Ind.)
---
Gun-wielding murder suspect Marc Mealey Holcomb, Jr., had already been shot by one armed citizen when he thrust his fist through a small window in the door of Sandra Rabine's Albany, Ore., home. Holcomb, who allegedly confronted several other residents seeking a getaway car, pleaded with Rabine for assistance. The terrified homeowner armed herself with a 9 mm handgun and replied, "I'll get you some help, but you just have to back away from the door. If you don't, I will shoot you!" At that point, Rabine beat the gun from Holcomb's hand, sending the fugitive fleeing. (The RegisterGuard, Eugene, Ore.)
---
Stanley Horn and his wife were at their home in Cumberland County, Tenn., one evening when a knife-wielding man forced his way inside and proceeded to tie up the couple and lead them upstairs. But the home invader apparently didn't do a thorough job on Horn's knots. Horn was able to free his hands and shot his tormentor three times, killing him. (The Knoxville News-Sentinel, Knoxville, Tenn.)
---
Bail bond agency owner and former police officer Juliet Williams stopped by her office early one morning on business and was immediately faced with a life-or-death situation. Judas Lewis Caudle, a career criminal intent on theft, was inside and had already stacked up a load of office equipment near the front door. When Caudle came at Williams with a crowbar, Williams fought back, firing once from the handgun for which she has a carry permit and mortally wounding Caudle. (The Charlotte Observer, Charlotte, N.C.)
---
Huntington Beach, Calif. - homeowner Larry Spahr awoke to a loud banging at his back door early one morning only to find the door nearly kicked in and a hand reaching inside. After tussling through the opening with the man to whom the arm belonged, Spahr heard an accomplice say, "Move away from the door." Four shots rang out, sending splintered glass toward Spahr who retreated to his bedroom and grabbed a .357 Mag. handgun. He fired back, and the inept home invaders fled. (The Orange County Register, Santa Ana, Calif.)
---
Reynaldo Batista had just given a man and his female companion a ride in Phoenix, Ariz., when the man pulled a gun while the woman relieved Batista of his wallet, watch and car keys, according to police. As Batista and the man became engaged in a struggle, Batista pulled his Glock handgun and fired twice. The would-be robber (who had a lengthy criminal record including several outstanding felony warrants) died from his wounds. (The Arizona Republic, Phoenix, Ariz.)
---
Clinton, N.C., convenience store owner Ali Odeh suspected something was wrong when he saw a customer enter his store leaving one hand inside his jacket pocket and continuing to keep his face turned away. Odeh later told police the man then approached him, pulled out a hammer and demanded, "Give me your money!" Odeh promptly upped the man's ante by producing a gun. The fleeing would-be robber was caught by police soon afterward. (The Sampson Independent, Clinton, N.C.)
---
Garnett Campbell had left home early one morning in order to withdraw cash from a bank's automatic teller machine. He had no idea he was in for the rudest of greetings. As Campbell stood at one machine waiting for his cash, a man standing at the next machine made a threatening gesture and ordered, "Give me all your money." A brief struggle ensued during which the two wrestled on the ground. Finally, Campbell drew his licensed handgun and fired, mortally wounding the would-be robber who fled and shortly thereafter crashed his vehicle into a convenience store. (Miami Herald, Miami, Fla., 12/18/99)
---
When Betty Kulas turned out the Christmas lights and went to bed one evening in her Tampa, Fla., home, she placed a .25-cal. handgun nearby. Not long afterward, the 62-year-old widow and grandmother of 16 was awakened by a crashing sound. Arming herself, she went to the living room to investigate and noticed a man's shadow move through her kitchen. "I just squeezed," said Kulas of firing at the intruder who was wounded before fleeing into a nearby field. Police charged the man with burglary of an occupied residence. He reportedly later told his mother, "I am so tired of this. I really want to go straight." (St. Petersburg Times, St. Petersburg, Fla.)
---
Shooting suspect James Michael Smith made a poor choice of hideouts one afternoon when he ducked into Tom Campbell's Standard Wilson Glass Co. in Knoxville, Tenn. Attempting to evade police, Smith ran into a supply room at the business where Campbell caught him reaching into his pocket. Campbell drew his .40-cal. pistol, held it against Smith and told him not to move. "He came awful close to meeting his maker," said Campbell. Police were following closely behind and took Smith into custody. "I am a glass merchant that would like this trash off the street," Campbell said. "I was glad I was able to help." (The Knoxville News-Sentinel, Knoxville, Tenn.)
---
A wary deer hunter took the precaution of placing his .357 Mag. handgun within easy reach before bedding down in his truck camper one night at a farm outside Frankford, Mo. Soon afterward, he awoke to find John Dieumegarde, a 23-year-old prison escapee, trying to force his way inside. The armed hunter summarily halted the escaped felon and escorted him at gunpoint to the nearby farmhouse where his friend called 9-1-1. The capture ended a manhunt that had involved scores of police, citizens, blood hounds and helicopters. Dieumegarde, serving a 20-year sentence for robbery, had escaped while being transported from court on other charges. (The Quincy HeraldWhig, Quincy, III. )
---
When Sampson Mitchell, 57, of Youngstown, Ohio, went outside to investigate a noise in his garage one morning around 6 a.m., he was confronted by a man wielding a crowbar, according to police reports. Fearing for his life, Mitchell fired once from his 9 mm handgun, but his assailant kept coming. Two additional shots sent the man, now severely wounded, fleeing. The intruder was found dead-still clutching the crowbar-a short time later in a back yard two houses away. (The Vindicator, Youngstown, Ohio)
---
Kodak, Tenn., convenience store owner Don Durben had closed up shop one night and was preparing to get into his van at the back of the store when he heard someone running toward him across the gravel. When the man reached Durben, he brandished a handgun and demanded that the proprietor hand over his cash box. Durben, who also was armed, feigned compliance, but after turning back to face the would-be robber, he used the box to push him away. A struggle ensued in which Durben gained the upper hand, shooting his assailant who, it was later learned, had a 38page criminal record. (The Mountain Press, Sevierville, Tenn.)
---
Frank Herrmann was at his secluded Killingworth, Conn., home one evening when he responded to noises from outside. Licensed for many years to carry a handgun, Herrmann armed himself with a.45-cal. pistol and carefully slid open a glass door. That's when he came face-to-face with an armed intruder who reportedly had been crouching nearby, said sources who added that Herrmann fired only when the man raised his gun as if to fire. Police later launched a manhunt for the fleeing intruder who apparently had been shot through one leg. "Given the alternatives, I'm not disappointed with the way things turned out," said Herrmann. "I'm very deeply grateful that the outcome was as positive as it was for those who dwell in this house:" (New Haven Register, New Haven, Conn.)
---
An 18-year-old ne'er-do-well who allegedly kicked in the door to Laurie Boykin's Auburn, Ala., home one afternoon in a robbery attempt couldn't have known his shenanigans would prove an enormous pain in his rear. Boykin's response to the threat on her safety came in the form of a single well-placed shot to the intruder's buttocks. Police later nabbed the suspect at a nearby medical center after he apparently hightailed it away from the scene by hitching a ride with a passing motorist. (LedgerEnquirer, Columbus, Ga.)
---
Seeking a suspect in a botched pawn shop holdup, Huntsville, Ala., police didn't have to look far before finding the man's vehicle it was parked in front of the store with his daily "to do" list inside that, incredibly, included the penciled-in reminder to "Rob pawn shop." The man had allegedly entered the store, asked owner John Dempsey to show him some stereo equipment and then, as Dempsey turned away, stabbed him with a knife. Dempsey pulled his.32cal. handgun and, after chasing his assailant-who stopped long enough to inflict additional stab wounds-fired a shot that found its mark. Police later apprehended the man and charged him with robbery and attempted murder. (The Huntsville Times, Huntsville, ala.)
---
Retired utility worker Joe Mergerle was walking in a Kenton County, Kentucky, park one morning when a man approached him, drew a pistol and demanded money. Fortunately, Mergerle was one of 5 1,000 Kentucky residents who held a firearms carry permit under a three-year-old state law allowing concealed carry. The law-along with Mergerle's .25-cal. pistol-may well have spared his life. Mergerle, fearing for his safety, drew the gun and shot his attacker twice, sending him to the hospital in critical condition. The would-be mugger is facing an attempted robbery charge and may also be charged with attempted murder. Sheriff Charles Korzenborn said of the incident, "People have not only a right but a responsibility to take care of themselves." (The Kentucky Post, Covington, KY)
---
When an armed burglar wearing a ski mask broke into Patricia Mathias' basement early one morning, the frightened 63-year-old Keene, Ohio, resident went to investigate. Feeling a cold draft upon opening the door, Mathias retreated to her bedroom for a .22-cal. semi-automatic pistol and returned to the basement stairs. When she stepped down, an exchange of gunfire followed in which Mathias felt a bullet whiz by her ear. Her tormentor was not so lucky and suffered a fatal wound. His body was dumped in a ditch by an accomplice and was found eight days later. (The Columbus Dispatch, Columbus, OH)
---
World War II veteran Clair Wallingford was in his Appenzell, Pennsylvania, general store one afternoon when a man came in, bought a soda and inquired about the distance to nearby Neola. He apparently didn't like Wallingford's answer of "five miles" because he summarily reached inside his baggy clothing, declared he had a .45-cal. handgun and demanded, "Give me your change box!" Wallingford's response doubtless took the ne'er-do well aback. He produced a pistol of his own and said: "I got a .45, too. Who's going to shoot first?" With that, the man fled. Wallingford, who trailed after the man, quickly called the state police. "These people don't scare me one bit," he later declared. (The Times News Pocono Post, Gilbert, PA)
---
Richard Stein, a Monticello, New York, veterinarian, was at home one night when a knock came at the front door. When Stein found no one there, he reached for his .22-cal. rifle. His instincts turned out to be dead on. Moments later, a man appeared in the rear of Stein's house and began attacking him with a vacuum cleaner handle. Stein attempted to warn his attacker off, but to no avail. Police arrived to find the intruder dead with a single gunshot wound to the chest. (The Times Herald Record, Middletown, NY)
---
Store owners Eugene and Clara Clifford were preparing to close their Cincinnati carryout late one night when three male teen-agers entered with shirts pulled over their heads. According to the Cliffords's son, Aaron Webster, "They said this is a stick-up and they wanted money." After one of the ruffians knocked down Mrs. Clifford, held her to the floor and put a gun against her head, her husband grabbed a gun and fired several shots, hitting all three. One later died of his wounds and police eventually caught and charged three other teen-agers allegedly involved in the attack. (The Cincinnati Enquirer, Cincinnati, OH)
---
Trucker Michael Pressley's routine delivery to an Atlanta foundry turned deadly early one morning when two seemingly innocent men approached his rig asking if he had a cigarette, then requesting that he make a call for them on his CB radio. "When Pressley went to reach for his radio, the first guy pulled out a 9 mm handgun and pointed at him," said Atlanta Police Sgt. Cecil Mann. The frightened trucker responded by firing his .25-cal. pistol, critically wounding one of the thugs who police said had a lengthy criminal record. (Atlanta Constitution, Atlanta, GA)
---
With her husband and older sons on a camping trip, Kathy York and her 7and 8-year-old sons were left to fend for themselves when a rabid skunk attacked the family dog at their Palmyra, Maine, home. Fortunately, the 8-year-old was more than up to the task of reloading the single-shot .22-cal. rifle for his mother who fired at the crazed, wild animal seven or eight times before finally killing it, ending its relentless attack. (Portland Press Herald, Portland, ME)
---
A 20-year-old man allegedly went on a crime spree early one Saturday in remote Posey, California, breaking into several homes, burglarizing some and brandishing a knife at residents. He finally picked the wrong house where he allegedly attempted to stab resident Lonnie Dugger. The armed citizen then put a stop to the rampage by shooting the deranged man once in the arm and detaining him until sheriff's deputies could arrive. (Fresno Bee, Fresno CA)
---
Mike Aldrich was unaware of the danger he was about to face when he confronted a man attempting to steal items from his pickup truck one evening in Belen, New Mexico. The startled ne'er-do-well allegedly robbed Aldrich of his wallet and took the keys to the vehicle before pulling a gun on him. Aldrich fought back by retrieving a rifle from his other vehicle and shooting the man twice. When police arrived, they found the man being held at rifle- point. (Valencia County News-Bulletin, Belen, NM)
---
Maurice Chevalier Dozier made a fatally poor decision when he targeted Dario Adams' Chattanooga, Tenn., home for burglary. When Dozier, who had a lengthy criminal record, pried open a side window and began to climb in, Adams fired once with his 12-ga. shotgun, fatally striking Dozier in the side. "The law presumes someone willing to break into your home while you're there is willing to hurt you or kill you. And the use of deadly force is justified if and when you are in danger of serious bodily injury or death," said Hamilton County District Attorney General Bill Cox of the incident. (The Tennessean, Nashville, Tenn.)
---
A Snohomish County, Wash., condominium owner, his son and a neighbor were at home one evening when a man burst in through a second-story glass door. That the 230-Ib. intruder had accomplished his extraordinary feat after having painted his face and feet white only intensified the residents' fright. The deranged man was finally halted with several shots from the homeowner's firearm, but continued to struggle with emergency personnel while being transported for medical treatment. (Seattle Post Intelligencer, Seattle, Wash. )
---
North Carolina logger and farmer Jim Fowler and sons Winn and Dean have their instincts, bravery, family dog-and a pistol-to thank for their capture of a fugitive being sought by police in the killing of five family members from nearby Jonathan Creek. According to police, the man was part of an evil triumvirate that only days earlier had killed Earl and Cora Mae Phillips; the Phillipses' son, Eddie; his wife, Mitzi; and their daughter, Katie. Authorities suspect that Charles Wesley Roache, Christopher Wayne Lippard and Chad McKinley Watt were having car trouble when a fight broke out between Roache and Watt. Soon afterward, Watt was dead from a gunshot to the head. Things then turned deadly for the Phillipses, innocent bystanders who lived along Interstate 40 near where the fight broke out. Following newscasts of the tragic events, Fowler's sons decided to patrol their father's property before going logging. As the three returned from the sawmill to the house, their family dog began to growl and they noticed someone hiding under a camper top. It turned out to be Roache whom they held at gunpoint until law enforcement authorities arrived. "I held him in the ditch until the law got here," said Fowler. Lippard remained at large, becoming the subject of a massive manhunt. (The Enterprise Mountaineer, Waynesville, N.C.)
---
Even though Hickory, N.C., convenience store clerk Fred Hayes risked his job to discreetly carry a .25-cal. handgun at work, the decision likely extended his life. A customer attacked the concealed carry permit holder with a knife one morning and demanded money. When the store's manager got into the scuffle, Hayes, who had been cut by his attacker, fired one shot, striking the villain's side and sending him fleeing. He followed up by recording the getaway car's license number and hitting an emergency signal, summoning police. A wounded man was later charged with the crime at a nearby hospital. (Hickory Daily Record, Hickory, N.C.)
---
After entering Stan Schley's Grand Rapids, Mich., cellular phone store, an armed man made an inquiry about a specific model then promptly followed with the announcement: "I think I'll just take all your money!" Schley said later that when he fired back a response-two shots from his own gun-he was thinking, "Not today. I'm not going to be a victim, at least not an easy victim." (The Macomb Daily, Mount Clemens, Mich.)
---
A female Sharon, Pa., resident became frightened when a man repeatedly knocked on her door before going to her garage and picking up a chain saw. According to police, the woman grabbed a.22-cal. handgun and went outside to confront the man. When she pointed the gun at the man's head and ordered him to drop the saw, he realized he had been trumped and repeatedly apologized before fleeing the property. (Sharon Herald, Sharon, Pa.)
---
When ne'er-do-well Joey Wayne Fuller, 21, armed himself with a sword and a flashlight and then broke into a Lebanon, Ala., woman's home, he was unaware he was about to come face-to-face with the homeowner-and his Maker. After Fuller repeatedly stabbed the resident, she fired two shots, striking him once in the stomach. Fuller and his accomplice, waiting in a car outside, continued the assault by attempting to run down the fleeing woman who let two more shots ring out. Police later found Fuller dead in the lookout's vehicle. (Sand Mountain Reporter, Albertville, Ala.)
---
Ed Barkhurst, 72, was unaware he was about to experience a second deadly brush with violence when a man solicited him for yard work at his Napa, Calif., home. After Barkhurst refused the man's offer, he went back inside his house, armed himself and called for assistance. That's when the man forced his way through the exterior door. Barkhurst answered by firing a single fatal shot. Three years earlier, Barkhurst had given a ride to two teen-agers who said their car had broken down. According to police, they later repeatedly stabbed Barkhurst and left him for dead. (Vallejo TimesHerald, Vallejo, Calif.)
---
Shirla Menendez was visiting her father next door in Jacksonville, Fla., when a man brazenly intruded brandishing a handgun. The invader forced Menendez to tie up Claude Allen, 77, then herded her into a bedroom and was about to shoot when a jewelry box caught his eye. "He told me he was taking me to the other room to kill me," said Menendez. Meanwhile, Allen, who hadn't fired a gun since World War II, got loose, grabbed a 9 mm Smith & Wesson pistol and hit the robber with a single, fatal shot. (The Florida Times-Union, Jacksonville, Fla.)
---
For the second time in four months, M.D. Bhuiyan found himself facing a wouId-be robber in his Tulsa, Okla., convenience store. As the man approached the proprietor demanding money, an accomplice remained at the door as a lookout. Bhuiyan foiled the holdup by pulling a .357 Mag. handgun from under the counter and shoving it in the scofflaw's face. At that, both men fled, firing at Bhuiyan as he gave chase to get a description of the getaway vehicle. (The Daily Oklahoman, Oklahoma City, Okla.)
---
Army retiree John Langwasser, 68, heard glass breaking in his Jasper, Tennessee, home one morning and armed himself with a Smith & Wesson .38 Spl. revolver before going to investigate. According to Marion County Sheriff Jim Webb, Langwasser was met in the living room by a man with outstretched arms asking, "Did you know someone was breaking into your house?" Realizing the ruse was ineffective, the man jumped Langwasser who fired the handgun, fatally striking the intruder once in the chest. (Chattanooga Times, Chattanooga, TN)
---
Seventy-one-year-old Lee Carter had operated his Four Oaks, North Carolina, pharmacy in relative peace for a decade before coming face-t-face with a gun wielding bandit 15 years ago. Following that incident, Carter began keeping a .22cal. handgun nearby. The decision doubtless saved his life on a recent evening when a gunman entered the store around closing time and demanded Valium, morphine and other drugs. In the ensuing gun battle, Carter took one bullet, but managed to inflict several gunshot wounds on the would be robber, sending him to the hospital in much worse condition. Carter's longtime friend said later, "That is one criminal they don't have to worry about catching." (The News & Observer, Raleigh, NC)
---
Bartender Shannon Allen had no way of knowing that cutting off a patron at her workplace, E-Jay's Tavern in Johnstown, Pennsylvania, would lead to a deadly confrontation. After bouncers ejected Scott Kniss from the bar, he returned minutes later bent on revenge and armed with a handgun and a rifle. Firing 35 shots-some of which seriously injured Allen-into the roomful of patrons, Kniss was finally halted when bar owner Mike Jaber shot him twice with a .45-cal. handgun. "I was forced to act in self-defense to protect myself, my employees and my patrons," said Jaber following the traumatic incident. (Johnstown TribuneDemocrat, Johnstown, PA)
---
Emily Pesti's tranquil Gaithersburg, Maryland, backyard was quickly transformed into a horror movie-like setting one Sunday night when a 12-ft. snake appeared out of the darkness and coiled around the family pet: a mixed terrier named Dusty. Family members fought the beast with a leash, a shovel-even a surfboard-until the snake finally relented and released the limp, breathless Dusty who was later revived and rushed to a veterinary hospital. Having been told by animal agencies after an earlier sighting of the snake that no help would be forthcoming, the family's nightmare finally ended when a neighbor showed up with a rifle and dispatched the snake. (The Dallas Morning News, Dallas, TX)
---
Michael Lamotte told sheriff's deputies in Greene County, Tennessee, that the home he rented became the scene of a home invasion one Tuesday evening when two masked men kicked in the front door, ordered him to the floor and robbed him of his wallet. Lamotte was determined not to take the roughing up lying down, however, and managed to crawl to a closet, retrieve a shotgun and shoot at one man before he escaped through a window. When the second intruder appeared from the basement stairs pointing a shotgun at him, Lamotte fired two shots, fatally wounding the home invader. (Knoxville NewsSentinel, Knoxville, TN)
---
A 34-year-old Boulder County, Colorado, woman became the trapped prey in a life and-death contest with her estranged husband one Saturday when he invaded her home and held her against her will for more than five hours. The woman finally managed to break free by crawling through a second story window. Then, turning the tables on her tormentor, she reentered the house - this time with a gun - and ordered him to leave. The man was later arrested at his home and charged with attempted murder, burglary, felony menacing, harassment by stalking and false imprisonment, (Rocky Mountain News, Denver, CO)
---
Quick thinking and his 9mm pistol helped a former Marine save seven family members when five gun-toting thugs descended on his Tucson, Arizona, home early one morning. The victim was awakened by a loud bang as three of the men broke down a garage door that led into the home. When they mysteriously retreated to a vehicle outside, the victim followed. That's when a gun battle erupted, moving back inside and finally littering the home's floor with 25 spent casings from six guns. Police found evidence that at least one intruder was injured, but could not offer a motive for the incident. (The Arizona Daily Star, Tucson, AZ)
---
Ocean City, Maryland, businessman and resident Stephen George was walking his dog late one night when he noticed two men in a passing vehicle turn off the headlights and swing back toward his business, Boat Doctor Marine, Inc. After watching the pair squeeze through the fence, George went to his house nearby and retrieved a stainless steel, .357 Mag. revolver. Surprising the men- who were hefting new batteries back to their car-George commanded, "Hold it right there." He then instructed the pair to keep their hands in plain view and marched them back to the business to dial 9-1-1. Sheriff Charles Martin later said, "I think it was a good, common sense move on his part. We've got limited manpower, and we need all the common sense help we can get." (The Daily Times, Salisbury, MD)
---
David Zamora found himself staving off more than a hunger attack late one evening as he sat behind the wheel of his Camaro in a Phoenix fast-food drive-through. When a man walked up and demanded that Zamora turn the car over to him, Zamora responded with a shot from his handgun, critically injuring the would-be carjacker. Three of the man's companions were arrested nearby. (The Arizona Republic, Phoenix, AZ)
---
The tranquility of poet Carlton Eddy Breitenstein's Providence, Rhode Island, home was shattered one evening when an intruder suddenly appeared on the second floor. The 83-year-old Breitenstein defended himself with a gun, sending the man fleeing. Police later caught the suspect who sustained a gunshot wound to the chest that required hospitalization. Breitenstein had been assaulted in his house the previous afternoon and had been the victim of a break-in little more than a week earlier. (Providence Journal, Providence, RI)
---
After returning from a week-long vacation from his job at the K4 Ranch near Prescott, Arizona. Ranch owner Linda Kieckhefer and her father, Chuck Sheppard, would soon find out just how far askew Garcia's mind had gone. As the pair made their way from the main house to the barn one Friday evening, Garcia burst out of his quarters brandishing a large knife. In the ensuing attack, Kieckhefer and Sheppard both suffered serious cuts; but when the blade broke, Garcia retreated to re-arm himself. John Kieckhefer, Linda's husband, then attempted to prevent a second attack with a 20-ga. shotgun, but missed and also was stabbed. Finally, another ranch hand's wife passed Sheppard a .357 Mag. handgun, which he fired at Garcia.
Two bullets found their mark and gave Sheppard time to retreat into the ranch house. Garcia continued his rampage-still attempting to get at his victims-before finally collapsing in death. "You tell them, by God, I shot that S.O.B., and I'd do it again," said the 82-year-old Sheppard after defending his daughter's life and ending the vicious attack. (The Daily Courier, Prescott, AZ)
---
After the garage of Jack Barrett's Augusta, Georgia, home was burglarized, the 75year-old bought a 16-ga. shotgun for protection. Not long afterward, Barrett's wife woke him in the early morning hours to say she heard a prowler. When Barrett went to investigate, he was met by a strapping young man clad in black military clothing and brandishing a knife. Barrett held his fire until the man was only a few steps away. He then delivered one fatal shot, striking the man in the chest. (The Augusta Chronicle, Augusta, GA)
---
When a couple driving near Bishopville, South Carolina, noticed that a man driving behind them was flashing his car lights, they pulled over. "He asked them how to get to Charleston, and when they said they didn't know, he pulled out a gun and asked them for their money," said Lee County Sheriff Odell Corbett. The scared driver appeared to comply with the thug's request, but instead pulled his own gun and fired, fatally wounding the highway bandit. (Aiken Standard, Aiken, SC)
---
Inland Valley, California, Humane Society officer Amy Murillo, 27, was responding to a local resident's pleas when she attempted to call off a vicious dog. But the animal turned on Murillo, jumping at her and causing her to fall against her vehicle. She suffered several bites to the head and chest from the crazed animal.
Witnessing the young officer's plight, the resident who had summoned her help returned the favor by running to his house and retrieving a handgun. The dog then turned on the man who shot twice, killing it. (Inland Valley Daily Bulletin, Ontario, CA)
---
A brazen gunman left his car idling 50 yds. from the Sulphur Springs, Texas, police station one morning, walked into The Pawn Shop nearby and opened fire with a smallcaliber handgun, striking two workers and a customer with as many as nine shots. What the man didn't know was that the store's co-owner, Jay Price, was in the back and had heard the entire barrage. After arming himself with a 12-ga. shotgun, the storekeeper emerged to fire one deafening blast from the smoothbore, dropping the assailant with serious wounds and ending the assault. "We believe that if Jay Price had not acted the way he did that there would have been some fatalities," said Sulphur Springs Police Chief Donnie Lewis. "The victims who had already been shot were probably saved by Jay Price." (The Winnsboro News, Winnsboro, TX)
---
In an apparent robbery attempt, Stephen Jerome Stephenson entered Lee's Country Kitchen in Pitt County, North Carolina, one evening brandishing a handgun and ordering employees to the ground. Fortunately, owner Don Lee, who had been chatting with a customer, was prepared. After Stephenson fired off a shot into the ceiling to prove he was serious, Lee surprised him from little more than arm's length away, warning the would-be robber to drop his gun. When Stephenson didn't comply, Lee let fly with a fatal shot from a handgun that he drew from the small of his back. Substances that appeared to be drugs were later found on the body by authorities. (The Daily Reflector, Greenville, NC)
---
A Randolph County, Illinois, farmer became a warrior in the fight against illicit drugs when he interrupted two trespassers attempting to steal a common liquid fertilizer from his property. According to authorities, the pair intended to use the anhydrous ammonia to manufacture methamphetamine. Their dastardly plans were halted, however, when the farmer confronted them with a shotgun, holding them until police arrived. (The Southern Illinoisan, Carbondale, IL)
---
The robber fraternity apparently has failed to spread the word among its members that hitting the Bank of Clarkson, Kentucky, when banker Clyde Bratcher is on duty can be a fatal mistake. Bratcher was in his office one Tuesday afternoon when a man vaulted over the bank counter and declared, "This is a robbery!" Bratcher charged to the rescue, firing twice with a handgun whose shots fatally struck the bandit in the chest. He had protected the bank's assets in a similar manner only three years earlier by dispatching yet another would-be crook who walked into the bank wielding a rifle and wearing a stocking on his head. Bratcher's grandfather - also named Clyde Bratcher - was a bank president when, in 1958, he ran off three bandits, pointing at them with a gun whose 35-year-old cartridges failed to fire. (The Courier-Journal, Louisville, KY)
---
A Heathrow, Florida, woman had endured unwanted advances and spying from a greens keeper at her local golf course for more than six months. In a final invasion of his victim's privacy, the stalker, armed with a handgun and a rope, found his way into the woman's home. After ordering her husband out of the way, the man confronted the woman, pushing her into a back bedroom and letting loose a volley of five shots. The wounded victim was not about to go easily, however, and fired back with one shot from a .38-cal. revolver she had bought for protection. The shot proved fatal to the 50-year-old man whose body was found next to a backpack full of pornography. The stalker was also under indictment for five counts of lewd and lascivious assault on a child. (Boston Herald, Boston, MA)
---
Jeff Grenfell was playing a video game in his Billings, Montana, home with his neighbor and his neighbor's son one Saturday evening when two men rang the doorbell. When Grenfell answered, the pair pushed their way inside and began physically attacking Grenfell throughout the house. Backed against a workbench, Grenfell managed to get his hand on a screwdriver with which he stabbed one of the invaders. Both men fled, whereupon a neighbor, waiting with a .44 Mag. handgun, detained them until police arrived. (Billings Gazette, Billings, MT)
---
Steve Webb, owner of Beaverdam Quick Stop country store in Hanover, Virginia, was faced with every proprietor's nightmare: an armed, would-be crook demanding money from the till. This time, though, the bad guy was quickly outmatched. Webb's .45-cal. semiautomatic easily trumped the ne'er-dowell's squirt pistol. When police arrived, they found the suspect-squirt gun nearby relieved to see them. "I don't think he blinked the whole 10 minutes he was on the floor," while being held at bay, said Pat Webb, the store owner's wife. (The Courier-Tribune, Asheboro, NC)
---
Jerry Pommer of Canton, South Dakota, was shocked to find that his herd of medical research sheep had been attacked by a neighbor's Dobermans. `There was blood, death and injuries. The dogs kept on killing while I stood there;' he said. Running to his house, Pommer was able to retrieve a 12-ga. shotgun and halt the vicious attack by delivering a deadly shot to one dog and injuring another before it escaped. The second dog was later taken by its owner to a veterinarian and put to sleep. The dogs had killed 10 sheep and injured 28 more. "I can bury sheep, but if I had to bury a child, that would be hard to deal with," Pommer said. (Argus Leader, Sioux Falls, SD)
---
The manager of a Farmington Hills, Michigan, motel and his fiancee were in a bedroom early one Sunday morning when a man came inside, threatened the pair and attacked the woman with a hammer. The manager was able to halt the potentially deadly attack with three shots from a .357 Mag, sending the intruder to the hospital in critical condition. (The Detroit News, Detroit, MI)
---
When 71-year-old Edith Ledbetter woke to noises in her Slapout, Alabama, home early one Saturday, she retrieved a .410bore shotgun from her bedroom and fired once at an intruder. The shot found its target, striking the man in the neck and ending the home invasion. "This is one lady who decided not to be a victim," said Elmore County Sheriff Bill Franklin. "She was protecting herself and her home." (Montgomery Advertiser, Montgomery, AL)
---
Titus Davis and his family arrived back at their Fayetteville, North Carolina, home one Monday night to find a broken window pane in the front door and, inside, a VCR, television set and other items piled on the living room floor. Resolving to investigate, Davis retrieved a rifle from the trunk of his car and entered the house. "When he opened the closet door, the suspect lunged at him, and [Davis] started shooting," said Cumberland County Sheriff's Capt. Freddy Johnson. Davis' shots fatally wounded his attacker who had been armed with a handgun. (TimesNews, Burlington, NC)
---
James Rowlan, 70, of Oklahoma City, Oklahoma, had just finished taking a shower one evening and his wife, Fannie, was following suit when someone rang the front doorbell and knocked loudly. Rowlan went to check and met a youth poking his head inside to survey the home and asking if "Mike" lived there. Before Rowlan had time to let his suspicions turn to warnings, the armed youth and an accomplice broke the storm door lock and barged inside. That's when Rowlan instructed his wife to barricade herself in the bathroom and pretended to watch helplessly as the robbers ransacked the couple's bedroom. Little did they know Rowlan had inched toward the nightstand where he kept a gun for protection. "Their gun was much smaller. So they were scared off by my husband's gun," said Fannie Rowlan after the ordeal. The two thugs "took off so fast they broke the chain on the storm door," said James Rowlan. (The Daily Oklahoman, Oklahoma City, OK)
---
Placerville, California, market owner J. B. Smith had closed his store for the day one Saturday when he heard scraping at the back door. Smith watched as a man entered and grabbed a handful of money from the cash register. Surprising the robber, Smith, with his semiautomatic pistol in hand, told him to freeze. The incident would have been the sixth burglary at the store, but Smith had halted it by camping out for more than a week in an effort to catch the thief. (Mountain Democrat, Placerville, CA)
---
Florida neighbors Art Terry and Donald Thweatt, both 53, knew they couldn't beat the three suspected auto thieves in a foot race, but both had Glock pistols and were confident they could handle a violent confrontation. While talking outside their homes before midnight one Tuesday, they responded to the sound of an alarm at a nearby car lot. After giving chase, the pair confronted three boys who had hopped in a stolen van. When police arrived, the suspects were "laid out like dogs," said Terry. The men planned to donate a $100 reward in the case to the NRA. (The Tampa Tribune, Tampa, FL)
---
Three people armed with a handgun entered the rural, south central Kentucky home of Harold Clontz early one morning and proceeded to club the 55-year-old, duct-tape his hands and steal several hundred dollars from his wallet, according to authorities. What the trio hadn't counted on was that another man who lived with Clontz was in a back bedroom at the time of the invasion, and was himself armed with a 12 ga. shotgun. "He heard the commotion and came out and commenced firing," said Laurel county Sheriff Gene Hollon. When the smoke cleared, one of the intruders was dead, another was in critical condition and the third fled only to be caught by police later the same day. (Lexington Herald-Leader, Lexington, KY)
---
Lela Phillips, 66, was awakened by a noise in her Michigan home one evening and moments later was confronted by a 20-year-old man who informed her, "this [is] a stickup," according to Benton Township Detective Delmar Lange. "[She] told him 'damn right it's a stickup' and pointed [a handgun] at him," said Lange. The man turned and fled immediately. It turns out that a man had come to Phillips' home twice that same day and, on the second occasion, had asked to use her phone-a courtesy she denied him because of her suspicion. (The Herald-Palladium, St. Joseph, MI)
---
For reasons that may never be known, John Michael Levi turned on his White Post, Virginia, neighbors one day in a rampage that jeopardized the lives of a couple and their three children. The mother had already compiled for police a 19page typed log chronicling Levi's offenses, which included minor acts of vandalism. The situation instantly turned grave, however, one Sunday night when Levi entered the family's home with a sawed off shotgun and a pistol threatening to kill everyone. As the mother and two daughters ran upstairs to escape onto the roof, the 15-year-old son and his father scrambled to load the family gun. Levi pursued the father up the stairs, reportedly declaring, "It's time to die."The father finally ended the confrontation with a deadly shot of his own. (The Winchester Star, Winchester, VA)
---
When a gun-wielding man entered a Phillips 66 store in South Bend, Indiana, intent on robbing the establishment, he became frustrated and fled empty-handed after failing to get the cash drawer open. Unfortunately, the clerk he assaulted in the process was unaware that the "gun" was a water pistol. A nearby armed citizen who saw the entire incident unfold grabbed his real, licensed handgun and gave chase down an alley, catching the perpetrator and holding him until police arrived. (South Bend Tribune, South Bend, IN)
---
A disabled man and a legally blind woman were in their Kalama, Washington, home one Friday afternoon when a 31-year-old man who was visiting friends next door forced his way into their residence and jerked the man to the floor. About to punch his helpless victim, the invader was distracted by the woman who pulled on him from behind. As the suspect slammed the woman against a wall, the other resident managed to grab a gun and force his assailant out of the home. The perpetrator later reportedly admitted to the crime and could not give a reason for his actions other than to say he'd had a bad couple of days. (The Daily News, Longview, WA)
---
This morning, I was no more than awake, still in my nightgown and robe having my morning coffee, when my dog started barking. It was one of those, " there is someone in my yard" barks, so I paid attention and went to check.
There at the door, I saw through the storm door, was a young man I would imagine to be around thirtyish, nice looking, clean clothes who looked kind of startled when he saw me, but then gave me a big smile and asked to use my phone, his car had broken down. I didn't open the storm door but talked through it and I told him to give me the number, I would dial it and make the call for him.
He stuttered and stammered and said that would be okay but could he use my bathroom. I said, "nothing personal dear, but with all the crazy things going on, no," he could not use my bathroom. I wasn't about to let him in the house. He then asked for a glass of water. I thought this was strange since he had just told me he was about to wet himself. I told him to go around the corner, he was a guy, he could pee outdoors.( a bit crude huh?) Told him to get a drink at the hose at the side of the house. He mumbled something and walked away.. I closed the door but had a really uneasy feeling. I sort of half expected him to come back to use the phone. I called my son who lives on the other side if town and he said he would come over. It would take him 10 minutes if there wasn't a train.
The next thing I know, the dog is barking again. This time at the back of the house. I looked out the back window and he was in my back yard. Usually people are intimidated by the dog but not this time.
I have a fenced in back yard with a gate. We have a fire place and my husband has a pile of cut wood in the back yard, some logs and some kindling. He had picked up one of the smaller pieces if wood and was just standing there. Like he was 'thinking' of what his next move would be. I went and got my handgun and just stood at the window, with my handgun in one hand, I tapped on the window with the gun (not pointed but wanted him to see it.) and the telephone at my ear. He dropped the wood and ran. I called 911 and gave them a description and told them what happened.. They were here within minutes and found him about a block away. He did have a record for breaking and entering and had spent time in prison.
Maybe I was just paranoid, and over reacted. I don't know what he had in mind, or if my life was in danger but I think the sight of the gun did get the message across that this was no ordinary grandma he was dealing with here. My theory is he was thinking of breaking in and was surprised to find someone at home. Most of the people on this street work, and most of the homes are unoccupied at this time of day. My car is in the garage and the door was shut, so it looked like no one was here either. He just picked the wrong house this time. By the way, there was no broken down car in the area but one in perfect running order.
My heart is still pounding a hundred miles a hour...
I saw a sign once that said," I don't call 911" . Does anyone know where I can get one for my door? by Texas Mom
---
I have had a similar disturbing event in the last year where I live in Florida. The
first one was about a year ago, when a nice young man came up to my door (I didn't open it either) and asked me if he could take a couple of pieces of overgrowth off of my (very overgrown) palmetto grass fronds (I think that's what they are called anyway)...I said to hold on a minute and went to look at his vehicle. It was a nice looking pick-up truck that had some other plants in it, and he said he was trying to start his own nursery, so I went back to the door and said, "Sure, go ahead...just don't take too many.." He said "Ok, I won't I am just going to go down the street and get my friend to help me." A few minutes later, two big black vans (no windows in them) pulled up into my driveway and about 10 big, mean looking guys got out. get this...with MACHETES!!! They started to pull the plants out of the ground, whack them in half with these machetes...I looked outside and the original guy looked at me with a big grin...I grinned right back...I sure wasn't going out there to stop them!!! I got on the phone, called 911, told them what was happening and that I would be holding them on my property with my licensed, fully loaded handgun...I got my gun, loaded it and opened the door (by now you could hear the sirens) and politely told them, "Put down the machetes, sit on the grass and wait for the police...they are on the way...if you try something funny or approach me, I WILL use my gun...these guys went from grinning to peeing their pants within seconds. the police arrived, asked me if I was okay and would I please put the gun back inside...they did background checks on all of these guys...4 were wanted for rape, 2 for assault and battery and one was a convicted felon out on parole for shooting a bank clerk. Needless to say, I was relieved that I had that gun to protect myself. Or else, I might not be here to tell the story. Women need the ability to defend themselves, as I learned that day.
by DJ88
---
THERE were two things Garfield Hart could say about the massacre that occurred at Wendy's.
"The same thing almost happened to me."
And "I can't comment. You're going to have to call my lawyer."
Unlike the five dead Wendy's workers, Hart was able to utter those words because, police believe, he pumped a bullet into the chest of a robber inside his Flatbush Avenue electronics store on Jan. 6.
He couldn't talk about the shooting death of William Outlaw, who is suspected of committing 13 holdups with a sawed-off shotgun in a three-month period, because Hart has been charged with criminal possession of a handgun.
While the city shudders at the massacre of five helpless Wendy's employees, it should also stand behind Hart, who now faces the lifelong scar of a criminal record simply for defending his life.
An outlaw marched into the store at 10 a.m. that day and pointed a shotgun at the heads of Hart and his brother, Vibert. He then herded them to a back room where he forced both men to lay on the floor.
But Hart and his brother didn't wait to see if Outlaw, who was interested in opening the safe, was going to pull the trigger. The brothers fought back and, after a brief struggle and a gunshot, Outlaw stumbled into the street, where he died.
"What are our rights as victims?" asked the 45-year-old owner of a grocery store in Flushing, Queens - about a mile from Wendy's - who's been robbed numerous times.
The grocery owner doesn't want his name published - he witnessed parts of the shooting death of another punk called Jose Colon, 37, just outside his store.
The day before the massacre, Colon and his two friends allegedly robbed Lilly Fu, 27, inside her boyfriend's pager and cell phone business on Kissena Boulevard.
The men herded the petite woman to the rear of the store, where they tried to bind her hands with duct tape. She fought back, using all her powers to survive - she even stabbed one of the robbers in the hand with a pen.
"If you see her, you'll see she has a large bruise on the side of her face," said the grocer.
As the crooks fled, Fu fired two shots from a licensed gun at the getaway car. A bullet slammed into Colon's neck and his accomplices left him bleeding to death several blocks away.
"She did the right thing," said the store owner, who is upset that Fu, who was briefly detained by police, is the subject of an investigation by the Queens District Attorney's office instead of being touted as a heroine.
Fu and Hart could have conceivably been registered as statistics, like the victims at Wendy's who were led to a basement freezer, bound with duct tape and killed like dogs.
The real animals are John Taylor and Craig Godineaux, who yesterday walked into a Queens courtroom breathing the air God created, breathing the air they are accused of taking away from five Wendy's employees.
Behind these accused killers were reporters and the general public who want to take their breath away because of the heinous crime they stand charged with.
Fu and Hart will one day breathe the same air as these accused killers when they walk into a courtroom to defend their right to survive.
Reporters and the general public won't be behind them at that time - it will be their loved ones who are glad they didn't end up like the employees of the Wendy's restaurant in Queens.
---



Peoples Rights Return Top Return