Choosing Your Long-Term Care Policy

presented by the National Endowment for Financial Education (NEFE)

DENVER - Would a long stay in a nursing home wipe out your life savings? People living longer, tougher qualification rules for Medicaid, smaller families, and rising health care costs have increased the need for long-term care (LTC) insurance to help pay for extended nursing home or home health care. But who really needs such a policy and what benefit features should they choose?

A year of nursing home care costs individuals an average of $40,000 a year in this country. The wealthy generally can afford to meet that expense out of pocket. People at the other end of the economic scale generally can't afford the LTC insurance premiums and probably would qualify for Medicaid, anyway.

"People who have more modest assets, modest retirement income, especially those who have little or no family to provide care at home, and who don't want to rely on government programs are the ones who should consider purchasing long-term care insurance," says Kathryn loannides, JD, CFP, CLU, ChFC, the assistant director of academic programs and courses at the National Endowment for Financial Education (NEFE).

Ioannides recommends that people begin considering LTC insurance in their 50s, even if they don't buy it until they're in their 60s (premiums rise dramatically after that). The first step is to determine need. To do this, an individual might find out the average cost of local nursing home care and then, with the help of a financial insurance professional, determine what portion (if any) he or she could afford to pay annually out of assets and income and what portion would have (or want) to be covered by LTC insurance. If nursing home care runs $100 a day and the person can pay $35 of that, the policy might only need to carry a daily benefit of $65.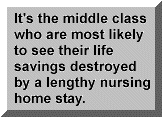 The next challenge lies in choosing the right policy and features. "Long-term care coverage is expensive and there are many options from which to choose," says loannides. She recommends considering the following three important benefit features:
| | |
| --- | --- |
| | Cost-of-living adjustment (COLA). A COLA bumps up the chosen daily benefit each year, usually at a fixed percentage, to keep up with rising health care costs. A $100 daily benefit today, with a 5 percent annually compounded COLA would provide $550 in daily benefits in 35 years. While this feature would be more important to someone who buys a policy at age 60 than it would at age 70 or older, Ioannides points out however that many people are living into their 90s. |
| | |
| --- | --- |
| | Home health care. "This is an important feature because living at home is preferred by many of the elderly," says Ioannides. A home health care benefit is generally sold as a specified percentage of daily nursing home home benefit, such as 50 percent or 100 percent. "Typically, 100 percent is the best choice," says Ioannides, "because home health care, contrary to public perception, is not that much cheaper than nursing home care. Skilled care by a nurse or therapist at home could run as much as a nursing home stay - plus the individual still has the continued home maintenance costs, such as taxes, utilities, food, and perhaps even a mortgage." |
| | |
| --- | --- |
| | Liberal benefit triggers. Look for a policy that does not require previous hospitalization or skilled nursing home care before benefits will be paid. The policy generally should go into effect if the policyholder is unable to perform one or more "activities of daily living," such as bathing, dressing, or eating. And the policy should pay for all three levels of nursing home care: custodial, intermediate, and skilled. |
One should also be sure that a policy's benefit triggers include forms of cognitive impairment, such as Alzheimer's disease. (Ioannides notes that Alzheimer's, which can strike early in life, is an argument for getting LTC coverage earlier rather than later.)
Of course, each feature you choose adds to a policy's cost, sometimes substantially. The home health care and COLA features, for example, each can double the premium cost of a "no-frills" policy. To reduce premium costs, Ioannides suggests several options:
| | |
| --- | --- |
| | You could lengthen the period of time after the onset of need but before a policy begins to pay benefits (the elimination period). This means you pay expenses out of pocket for the first 30, 90, or 180 days of care. |
| | |
| --- | --- |
| | You could buy a policy for a shorter period of coverage, such as two to five years, rather than for a lifetime. However, this would not dramtically lessen the premiums. |
| | |
| --- | --- |
| | Couples might consider buying a joint LTC policy that covers both and has a lower premium than two individual policies. At the very least, if a couple each purchases an LTC policy from the same company, they should inquire about discounts. Not all companies offer these features. |
Finally, loannides recommends that people be aware that a change in their personal circumstances, such as divorce or death, could possibly alter the need and type of policy (to more or less).
The National Endowment for Financial Education is an independent, nonprofit institution that advocates standards for all financial advisors and is dedicated to the goal of helping Americans achieve financial well-being. Divisions within the NEFE structure include the College for Financial Planning, the Institute for Tax Studies, the Institute for Wealth Management, the Institute for Retirement Planning, the NEFE Public Education Center, and NEFE Press. The 23-year-old College for Financial Planning is accredited by the Commission on Institutions of Higher Education of the North Central Association of Colleges and Schools (NCA).